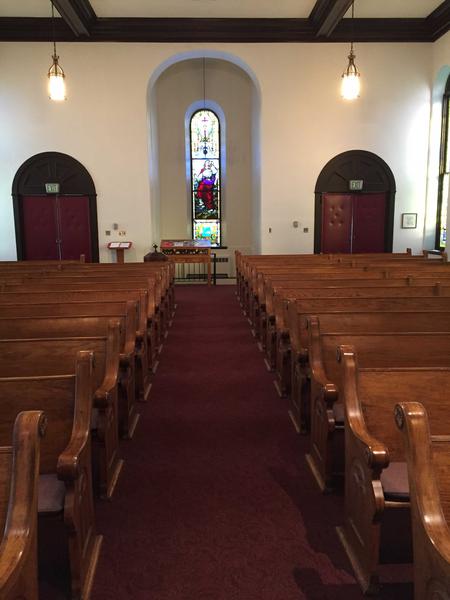 We have suspended all services and activities at St. John's until Governor Wolf lifts the business closures in PA. due to concerns over the spread of COVID-19. This includes cancellation of all Holy Week and Easter Sunday services. We will reevaluate at that time and post any further cancellations here and on our Facebook page.
During the time that we will be closed, we will post Interim Pastor Heintzelman's Sermons below.
LENT 5 (SERIES A) • SUNDAY, MARCH 29, 2020
The Disciplines of Lent:
Discipline of Prayer
By: Interim Pastor Warren Heintzelman
St. John's Evangelical Lutheran Church • Mercersburg, PA
A Prayer by Martin Luther:
Dear Lord, although I am sure of my position, I am unable to sustain it without thee. Help thou me or I am lost.
Amen
A little boy was saying his bedtime prayers with his mother: "Lord, bless mommy and Daddy and GOD, GIVE ME A NEW BICYCLE!" Mom exclaimed, "God's not deaf son." To that the boy replied, "I know, Mom, but Grandma's in the next room, and she's hard of hearing."
Hopefully, when we pray, our prayers to God are a little more mature than the little boy's prayer that we just heard. But don't count on it! Many grownup Christians are as clueless about prayer as that little boy. Do you know what prayer is? Do you pray? How do you pray? As I conclude my Sermon Series for these Sundays in Lent on the Disciplines of Lent, today I would like to share with you the Discipline of Prayer. In this Lenten Sermon Series, we have explored the Disciplines of repentance, fasting, almsgiving and service to others. For this Fifth Sunday in Lent, one week before Holy Week, I will conclude this Sermon Series with the last Discipline, that being prayer.
Prayer is one of the traditional Disciplines of Lent, along with fasting and almsgiving. In his Sermon on the Mount, as recorded in Matthew's Gospel, Jesus said this about prayer:
And when you pray, you must not be like the hypocrites; for they love to stand and pray in the synagogues and at the street corners, that they may be seen by men. Truly, I say to you, they have their reward. But when you pray, go into your room and shut the door, and pray to your Father who is in secret; and your Father who sees in secret will reward you.
Following the advice from Jesus, the practice of the discipline of prayer, as with all the Lenten Disciplines, it to be done between the believer and God. Theologian Richard John Neuhaus once wrote:
There is no such thing as private prayer there is only prayer in private.
Of course prayer can be done in public, among a group of believers. In worship, prayer plays a major role for Christians. There are many prayers in the liturgy, the style of our worship we do together. There is the Prayers of the Church, or as it is called in the Evangelical Lutheran Worship hymnal, the Prayers of Intercession. And we all know and pray the Lord's Prayers. But as a Lenten Discipline, prayer is a private matter, between the believer and God.
You may ask, "What is prayer?" Prayer has been described simply as talking with God or communicating to God. You may have your own definition of prayer. I found a good definition of prayer by John Bunyan, the author of "A Pilgrim's Progress." It goes like this:
Prayer is a sincere, sensible, affectionate pouring out of the heart and soul to God, through Christ, in the strength and assistance of the Holy Spirit, for such things as God has promised, or according to the Word of God, for the good of the church, with submission in faith to the will of God.
You may ask, "Why pray?" God does not force one to pray, nor demand on to pray. But in scriptures, we are encouraged to pray, because prayer is a natural part of one's relationship to God. The Apostle Paul wrote, "Pray without ceasing." And our Lord Jesus prayed, and he taught his disciples to pray, as recorded in Matthew's Gospel, in his Sermon on the Mount:
Our Father, who art in heaven, hallowed be thy name. Thy Kingdom come, thy will be done, on earth as it is in heaven. Give us this day our daily bread, and forgive us our debts, as we also have forgiven our debtors, and lead us not into temptation, but deliver us from evil.
We pray to ask God for something, whether it be for ourselves or for others. Prayer should not be done for selfish motives, but for one's good and the good of others. Why pray? Because that's what God would like us to do. God wants to hear from us. And in prayer, God would like to talk to us.
You may ask, "How do I pray?" is there any prescribed form or pattern of prayer? Throughout the ages and around the world, people have used and still use various methods to pray. Some bow their heads, other raise their arms. Some kneel to pray others sit or stand. Some fold their hands others place their hands together, finger-to-finger and palm-to-palm. Some pray out loud, others pray silently. Some create their own prayers others use prayers written by someone else. Some have long prayers others have short ones. Martin Luther once said, "I have so much to do that I must spend the first three hours of each day in prayer." The method used in prayer does not matter; it is up to the individual. Prayer can be done anywhere and in any way. God wants to hear from us. In his sermon on the Mount, Jesus gives this advice:
And in praying do not heap up empty phrases as the Gentiles do; for they think that they will be heard for their many words. Do not be like them, for your father knows what you need before you ask him.
A certain person couldn't find the right posture for prayer. He tried praying on his knees, but that wasn't comfortable; besides, it wrinkled his slacks. He tried praying standing, but soon his legs got tired. He tried praying seated, by that didn't seem reverent. Then one day as he was walking through a field, he fell headfirst into and open well. Did he ever pray!
You may ask, "What do I pray?" Like with how to pray, there are no hard and fast rules on what to pray. One is free to pray as one likes or needs. What do you want or need of God? Take it to the Lord in prayer. Does God answer our prayers? Yes! God knows what we need and what we want, and God has our best interests in mind. And God answers our prayers, even if our prayers may be misguided. If our prayers are misguided or selfish, God will still answer them, but not in the way we may have hoped for or wanted. God knows what is best for us.
You may ask, "When do I pray?" As St. Paul once wrote, "Pray without ceasing." The phone line is always open with God. One can pray to God at any time. Traditionally for Christians, a believer prays at the start of the day, at bedtime, and before meals. Christians pray when they gather together for worship or activities. Prayer is given when one is assisting another who is in need. We pray a baptisms, weddings and at funerals. Muslims are required to pray five times a day. Our good friend Martin Luther, who liked to pray, gave this advice:
A good prayer mustn't be too long. Do not draw it out. Prayer ought to be frequent and fervent.
Finally, you may ask, "Where do I pray?" Once again, for prayer, place doesn't matter. Christians pray at church and in church. But prayer is not restricted to church nor at worship services alone. As a Lenten Discipline, prayer can be done anywhere and at any time. Jesus suggested that one should pray to the Father in secret in one's room or in some private place. This may be challenging for us in our hectic and busy lives and lifestyles. But to find a place of solitude, even if it is in the midst of chaos, is where one can talk privately with God. The focus of prayer is on God and to God and with God.
As with the other Lenten Disciplines, of repentance, fasting, almsgiving, and service to others, prayer is not restricted only to the Season of Lent, but can be practiced throughout the year. As we approach the climax to the Season of Lent and come closer to the Mont of Crucifixion, the Discipline of prayer is all the more important, as we now our heads on Good Friday, and raise our arms in praise on Easter, and rejoice with our Lord throughout the year. I close with a prayer that I discovered:
I asked for strength that I might achieve;
He made me weak that I might obey.
I asked for health that I might do great things.
He gave me grace that I might do better things.
I asked for riches that I might be happy;
He gave me poverty that I might be wise.
I asked for power that I might have the praise of men;
He gave me weakness that I might feel a need of God.
I asked for all things that I might enjoy life,
He gave me life that I might enjoy all things.
I received nothing I had asked for;
He gave me all that I had hoped for.
WORSHIP
ALL SERVICES AND ACTIVITIES AT ST. JOHN'S HAVE BEEN CANCELLED UNTIL FURTHER NOTICE DUE TO CONCERNS OVER THE SPREAD OF COVID-19.
10:30 a.m.
Traditional Service with Holy Communion
SUNDAY SCHOOL
10:15 a.m.
Children join our worship service following the Sermon (approximately 11:00 a.m.)
All children ages 4 - 13 are welcome to join our classes, regardless of membership.